Weddings
You want the best vendors for your wedding reception. Choosing wisely is extremely important when selecting your wedding entertainment DJ.

Our approach to your wedding is simple... It is YOUR wedding. Although we can offer ideas and suggestions, it is your vision that counts. We will customize the entire reception for you.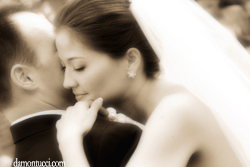 We are not just DJs that show up and push play. We will be your Reception Entertainment Director. Working with your other wedding professionals, we will help insure you get the wedding reception you want. From the music we play, to the order of events, to our level of interaction, our attention to detail is second only to your own.

Experience matters and Accent Entertainment has provided exceptional wedding DJ services in the Orlando and Central Florida area since 1991. This expertise is at your fingertips.

We offer extra services to ehance your wedding experience. Click here to learn more about our BOSE sound, Dance Floor Lighting, Up-Lighting, DVD Love Stories, Full Color Name in Lights, and maybe even Karaoke...

Some points to consider:
We will be involved and help plan the flow of the reception.
As Master of Ceremonies, we make sure guests are informed .
We will only talk on the mic when necessary... We are not cheesy...
We will get your guests involved but never make them uncomfortable.
Everything we do will Always be Appropriate.
Our level of interaction depends on what you want.
Our equipment setup will be clean and attractive.
Ideally, we like to meet and see if we are a good fit. You will know if our personality and presentation is right for you. If a face to face meeting can't be done, we look forward to speaking with you on the phone.
Call to schedule an appointment or phone interview... 407-579-0495